Several weeks ago, my friend Elizabeth came over one Saturday afternoon for a craft project. I saw this on pinterest, pinned it, and sent her the link immediately, declaring that we must do it that very weekend. Quite possibly my fastest pin made ever ;)
That Saturday morning, we met at a DC mall that has a Bed, Bath and Beyond. We found a coupon for the stemless wine glasses, and with that, two boxes of four each were $10! Wooo! Elizabeth had bought the paint the weekend prior, from Michaels. We used Q-tips to do the dotting, and did little color themes for each, and they were so much fun to make!
We took a break for snacks. Snacks make everything better. I've been really into olive plates lately....so, green olives, black olives, mozzarella and mini gherkins! Oh, and cheese and smoked sausage, of course.
We forgot to buy the spray to coat them, but I bought some the next day.
As you may notice, some of the dots are a bit smeared, but that just adds character, right?
These were so much fun to make, and now I can say that I made them myself if someone is over and asks me where I got my wine glasses :)
Also, I'm linking up with AP's Hey! That's Pintastic today, so go have a look at some of the other fun things people are creating today!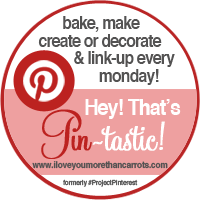 Any crafts for you lately?