As you know, I am very often posting about things I've seen on pinterest, and today I decided to link up with AP's Hey! That's Pin-tastic! I thought this might be fun! I love reading AP's blog, though I don't seem to comment there as often as I should! If you don't read her blog, you should - her boys are just the cutest. For real.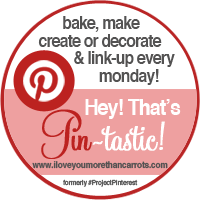 One night last week (New Years Eve, in fact), Steve and I roasted a chicken for dinner- one of my favorite meals. He had to work during the day, but I was off, and spent some time on pinterest, natch. I found this recipe for garlic pull-apart bread, and it sounded like the perfect thing to go along with the chicken!
It wasn't a terribly difficult recipe, though I'd make a few tweaks, I think. Here's the original:
1 can of refrigerated Grands biscuits (not the flaky layers)
1/2 stick of butter
3 cloves of garlic, minced
1/2 cup grated Parmesan cheese
1 tsp Italian Seasoning
1- Preheat the oven to 350 degrees. Throw the cold stick of butter in a bundt pan and let it melt in the preheating oven.
2- While the butter melts, cut the Grands biscuits into quarters. In a bowl, toss the biscuit pieces, garlic, Italian Seasoning, and Parmesan cheese together.
3- Once the butter is melted, add the biscuit mixture, sprinkling with any cheese and garlic that gets let behind in the bowl.
4- Bake at 350 degrees for 20- 22 minutes until golden brown. Turn out on a dish and enjoy!
I might use less than a full stick of butter next time. It was a lot.
I didn't use the Italian seasoning either. Steve isn't hugely wild about it.
Since I had a chicken in the oven, I couldn't melt the butter in the pan while preheating, so I melted it in the microwave. After the butter was melted, I used pre-minced garlic, as I realized I didn't have any full cloves in the house. For shame! Also, I was quite low on parmesan cheese....clearly I did not think this through carefully before I decided to make it!
So I added the minced garlic and the parmesan cheese to the small bowl of melted butter and as I cut up the biscuits (and I DID use the flaky kind, despite the recipe saying not to!), and I'd "marinate" them in the mix for a few seconds before putting them into the pan.
Most of the butter mix was soaked up to an extent, but the little bit that I had leftover, I poured over it afterwards. What I didn't realize, was that while baking, it would sink! So, when they came out, the bottom layer was somewhat sopping in butter, while the top layer was just about perfect! So, less butter would be ideal for the next time, I think.
Overall, this was a great recipe, and so easy. You could also try other spices too, to switch things up. Maybe rosemary and thyme? I do love rosemary! Another cheese would be fun too. Maybe add some olives and feta, for a Greek take on this?
How might you change this up?